The Best Water Well Drilling Service in the OKC Area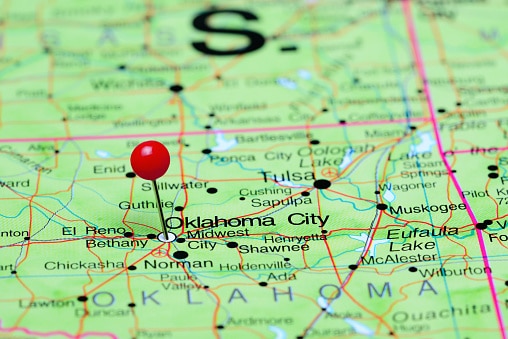 You can trust JB Water Well for all your water well system needs. Our team is licensed and certified to provide water well drilling Oklahoma residents can rely on. We make sure to stay up to date with the latest and greatest water well drilling technology and techniques so you can feel confident knowing your well system is in good hands. So if you are searching for water well drilling Stillwater OK to Norman OK and everywhere in between, we service all those areas!
We Are Experienced at Residential Well Drilling
Yes, JB Water Well is VERY experienced. We've been drilling water wells in Oklahoma for over 20 years!  Experienced drillers are important.  They know the area where you live and where to drill for water. This can save you a TON of money.
Local, experienced…that's what we are.  That's what you need for water well drilling Oklahoma. We drill from Norman to Stillwater. Just give us a call to see if we can drill in your area.
Ensuring Well Water Safety
We know it is important for you to have safe drinking water.  That's why it's important to work with experienced water well drillers when installing your new private water well system.
Your water well system needs to be properly sealed to avoid possible contamination from harmful chemicals and organisms. Groundwater isn't always safe to drink, and surface water can leak in with potential contaminants unless an experienced water well service has secured your well system.
Sanitary seals are key components to protecting your water supply from surface water. Without a proper seal, water can easily flow between the well casing and the borehole wall. JB Water Well offers sanitary seals that extend to the first impermeable sediment layer to effectively protect your water from contamination.
Water Well Drilling That Meets Your Needs
JB Water Well's skilled staff is capable of drilling wells that meet your needs. Our team can provide a wide variety of well sizes whether you need a 6-inch, 8-inch, 12-inch, or larger diameter well.
Each of our wells is constructed using rotary-drilling equipment, which reduces the risk of water contamination to ground water because of its depth capabilities and the use of continuous casing. Well casing is the tube-shaped structure our team places into your well to keep the well opening from the target groundwater to the surface.
Interested in having a water well drilled on your property? JB Water Well has the experience, skill, and speed you need, and we're located right in the Oklahoma City area. For more information or to schedule an appointment, contact JB Water Well today.
We Use Modern Equipment
At JB Water Well Our drillers use the BEST and most modern equipment to get your well drilled as efficiently as possible to save YOU money because it takes us less time to accurately drill your well.  JB Water Well can drill your well twice as fast as it takes other drillers, meaning we can let you get on with other things more quickly. Having the right equipment and trained drillers allows us ALL to win!